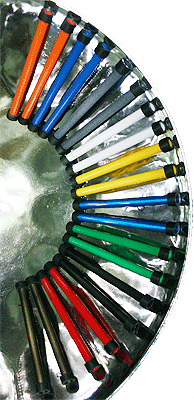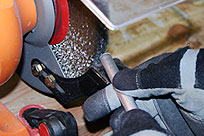 Here at SteelDrumMallets.com, we hand-make all of our aluminum steel drum mallets using 1/2" round aluminum tubing cut to the necessary lengths. We then wirebrush the aluminum to remove any burrs and smooth out the edges. This process also gives a nice brushed texture that can be seen underneath the transparent red or blue powder coat colors.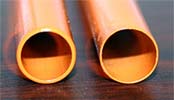 We then powder coat the aluminum rods in a variety of eye-catching colors. Powder coating is a process where the powder paint is electro-statically applied to the metal and is then molecularly attached to the surface by baking the painted mallets in an oven at 400o. This gives the mallets protective coat that prevents rusting and fading and is much more durable and scratch resistant than traditional paint.

We then precisely cut black rubber surgical tubing for the playing tips in a variety of thicknesses (1/8" for lead mallets, 3/16" for double seconds, and 3 layers of 1/8" for guitar/cello) and fit them on both ends of the mallets (with the exception of guitar/cello mallets, which only get 1 layer of 1/8" on the handle side). Placing the tips on both sides prevents slippage when your hands get wet, prevents clanging when placing the mallets down in the pan, and gives you double the playing time for each mallet before a tip would need to be replaced.
If you have any questions about our mallets, feel free to call us at 214-415-9563 or email us at

To view/purchase any of the mallets we have available to make, go to our online store.