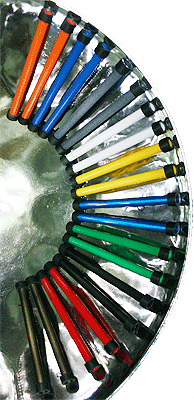 Welcome to SteelDrumMallets.com, where we hand-make all of our powder coated aluminum steel drum mallets and offer a wide variety of colors, sizes, and styles to fit your tastes and playing preferences. You can purchase these mallets right here online using your Visa, Mastercard, American Express, Discover, or Payal using our secure server.
Our list of product offerings includes mallets for Lead pans, Double Seconds, and Guitar/Cello pans. These mallets are just the thing to add a touch of style to your performance with their good looks and playing sound and will make you the envy of other pan players.
By request, we now offer a new color to our product line! Purple! Check out the Mallet Store to preview this and all the other colors available.
Use the links to the left to browse through the site, take a look at our offerings of mallets, find out about our mallet making process, view some user reviews of people who have purchased mallets from us, and enjoy your stay at our website.